A Whole Lot of Llama to Love
About 15 years ago, Lori Gregory adopted a llama so she wouldn't have to mow her lawn. Today, she's found her calling with camelids and proudly owns the world's most popular llama.
By Rebecca Deczynski. Photos by Kevin Edward
Published July 9, 2016 on Snapchat Discover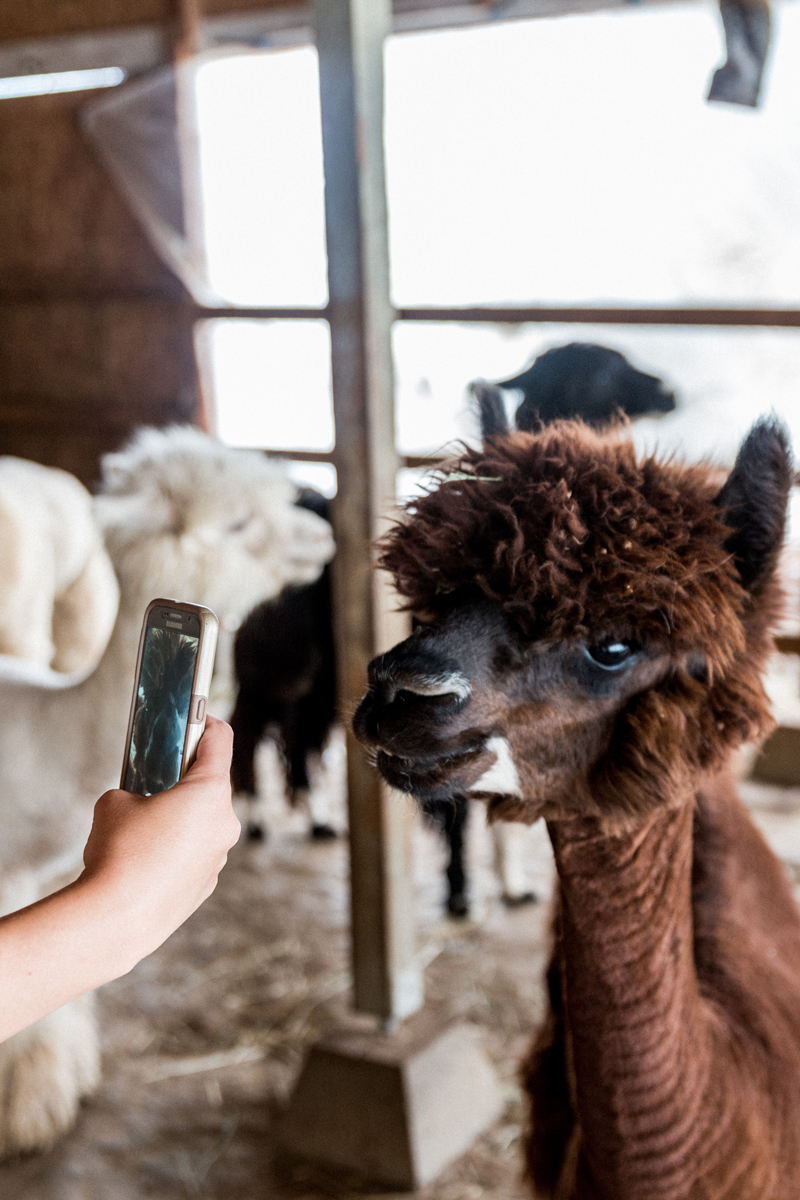 If you live in the Portland, Oregon, area, you might be accustomed to seeing unusual sights. The northwest city is known for its many beloved eccentricities, but one curiosity stands out apart from the rest: a llama, dressed in full costume, making appearances at senior homes and schools around town. Meet Rojo.
Rojo the llama has achieved a certain level of celebrity in the area not just for his cute appearance, but also for his good deeds. Standing at 5 feet 6 inches tall and weighing in at 400 pounds, this fluffy, red-haired creature is a therapy llama;with the training of his caretaker, Lori Gregory, he's made hundreds—if not thousands—of therapy visits since 2007.
The First Llama
Although her good heart has led her to use her unusual pets for good, it wasn't Gregory's intention to make a career shift into the nonprofit world. She took interest in llamas after moving from a small Oregon home to a sprawling property in Vancouver, Washington (just outside of Portland), and seeing the animals at a fair. After joining a local 4-H club (a youth non-profit focused on outdoor education) and borrowing a white llama named Shania Twain to get a feel for the South American animal, Gregory and her daughter Shannon decided to take the plunge and adopt their own. When they found a small, four-month-old red llama for sale, it was love at first sight. And so, Rojo became theirs.
"We didn't know what we were getting when we got him," says Gregory. "We knew he followed his owner around the yard while she was doing chores, and all the other llamas were with his buddies in the pasture. He's very calm, and very interactive with whoever he's around—he has a very unusual llama personality."
Training Time
"We were taking the llamas out so much, every place we would go, it seems like somebody would always ask, 'What's the difference between llamas, and alpacas?' Finally, I thought, we really need an alpaca for therapy, so we can take an alpaca to show people what they're like."
With Rojo making public appearances and interacting with members of the community, a stranger suggested to Gregory that she get the sociable llama certified for therapy, a process that involves training for both animals and handlers and some strict regulations. Gregory and her daughter trained their llama through a Portland-based animal emergency hospital that had an animal-assisted-therapy program.
By 2007, Rojo was certified and in such high demand for therapy visits to nursing homes, schools, and more, that Gregory decided to adopt her second llama—a protective yet friendly "guard llama" named Smokey. Soon enough, her camelid charity work had enamored the entire community—but not everyone was pleased with Gregory's unconventional therapy methods.
Dress Code
"Llamas might initially run away from you or be scared, but when you spend time with them and get them to overcome their fear of humans so they know that they're safe and are going to get lots of love and carrots, then they're a totally different animal."
After Smokey was certified in 2008, changes in the certification process meant that Gregory's animals were not considered suitable to be therapy llamas for one unexpected reason: their costumes. "Because our animals wore decorations, we were not qualified," Gregory explains. Gregory's animals wore costumes not just because the outfits add an extra cuteness factor (and make use of Gregory's skills as a former dressmaker), but because they evoke joy in those who see them.
"People use llamas to guard sheep and goats from coyotes—they're very alert, very watchful, and very protective of the herd. When we let ours out in the pasture at night, they'll all sleep facing different directions, watching for things."
After Rojo and Smokey made an appearance in the Macy's Holiday parade in Portland wearing reindeer antlers, residents of one senior-citizen home urged Gregory to dress the llamas up for their next therapy visit. Gregory took the idea to heart, and hasn't stopped since. "One of the activities directors took me aside," Gregory explains, "and she goes, 'You know, Lori, Helen only comes out of her room when Rojo comes, because she wants to see what he's wearing this time. It was like this light went on. I thought, 'Oh my gosh, it's more than just looking cute. It serves a purpose to get them to want to come out of their room.'"
A New Nonprofit
Three years ago, Gregory decided to begin an animal therapy organization on her own terms. With the help of her growing stable of camelids, which now includes several llamas and alpacas, she established Mountain Peaks Therapy Llamas and Alpacas, enabling her animals to visit schools, nursing homes, hospitals, weddings, and special events.
"The majority of the visits that we do are in senior homes and Alzheimer's/memory-care facilities. There's such a need, and [care providers] want animals to visit these places," Gregory says. "We've really tried to find a way to accommodate everybody who wants a visit from them and not to be exclusive to just one or two places that want our animals all the time."
Room to Grow
Gregory's animals continue to grow popularity thanks to both social media and Shannon's Rojo-centered children's book, The Perfectly Imperfect Llama. Mountain Peaks now receives more requests for llama and alpaca visits than the family-run charity can accommodate, and Gregory is looking to move to a larger plot of land where she can set up an on-site visiting area so that more people can benefit from meeting her animals.
"It makes you feel so good to share something that brings so much joy to people," she says. "There's no feeling like seeing people just loving your animal or hearing the stories of people that are benefiting from interacting with them. It's really rewarding when you feel like you're really able to see progress and achieve something positive that benefits other people. That's definitely the most rewarding feeling—to do just that."
"We love sharing what we do because people have such bad impressions. They've had bad experiences with llamas and alpacas. One of our main goals is to educate people that they're not all naughty. They're actually pretty wonderful, wonderful pets."
To learn more about Mountain Peaks Therapy Llamas and Alpacas and to donate to the nonprofit, visit rojothellama.com. Follow Rojo (and his camelid friends) on Snapchat @rojothellama.